Dental Visit Voucher
Because keeping your teeth clean and healthy is such an important part of Orthodontic care, we recommend you visit your dentist every 3 – 6 months for a check-up and cleaning. Please download and print this Dental Visit Voucher and take it to your next Dental appointment. Have your dentist or hygienist complete the information and we will reward you with VO Tokens.
Dental Visit Voucher
Would You Like to Earn Additional VO Tokens???
Get "Caught" in your VO t-shirt by a Staff Member outside of the Office – 2 tokens
Like Valderrama Orthodontics Facebook Page, Instagram or Twitter – 1 token
Submit an Online Review on Google – 5 tokens
Having an Appointment on your Birthday – 3 tokens
All A's on your Report Card – 4 tokens
All A's and B's on your Report Card – 2 tokens
Exam and Cleaning with Your General Dentist (voucher signed) – 5 tokens
No Cavities (voucher signed) – 2 tokens
Refer a Friend that Starts Treatment – 25 tokens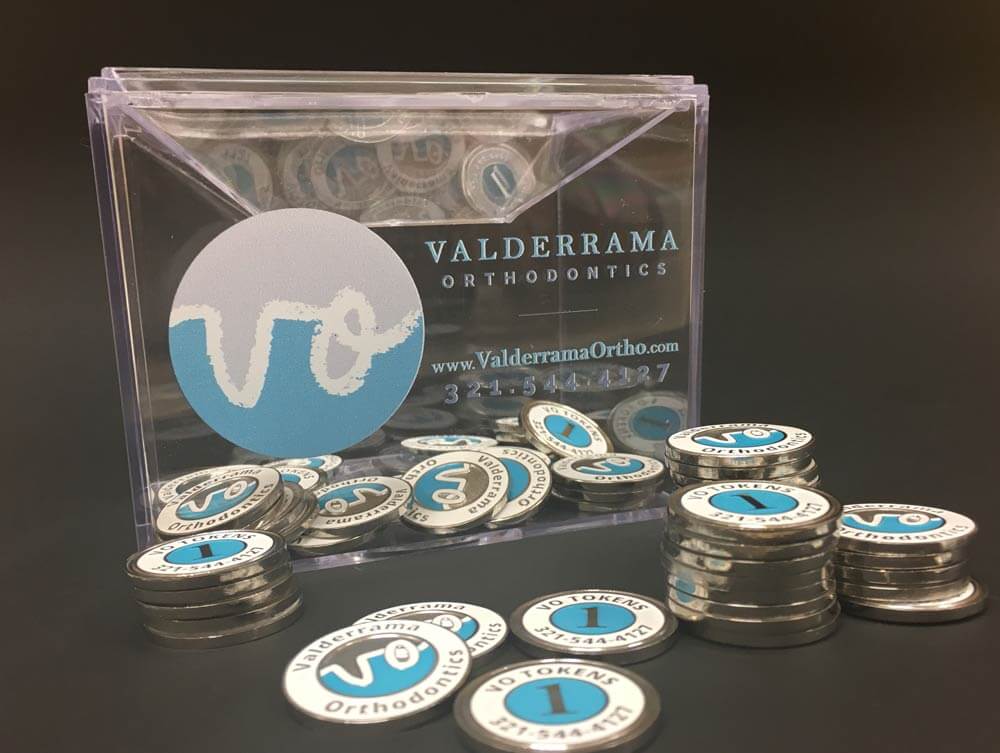 The Rules
• Program only applies to active patients • • Your financial account must be current in order to redeem tokens for a prize • • Tokens are only rewarded at regular, scheduled appointments (not emergency appointments or walk in appointments) • • Lost tokens will not be replaced • • Gift cards and /or tokens are not redeemable for cash • • You must bring the "Dental Visit Voucher" printed and signed by your dentist or hygienist to your next scheduled Orthodontic appointment in order to receive tokens • • Point values and prizes are subject to change at any time • • Tokens are not given during retention appointments, after ortho treatment has been completed •
VO COOL KIDS CLUB
We are proud to introduce our Valderrama Orthodontics Cool Kids Club. It's designed especially for our young patients who are not quite ready for orthodontic treatment. At Valderrama Orthodontics, we do everything possible to make your orthodontic experience exciting and fun! After your initial consultation, if you are not ready to begin orthodontic treatment, you will be invited to join our VO Cool Kids Club. When you join our club, you will receive your very own Kids Club Packet. You'll also have access to fun office events, exclusive contests, and cool prizes just for Kids Club members. Learning about braces can be educational and fun! We're happy you're our patient, and we look forward to helping you create a happy, healthy smile. As a Kids Club member, you'll automatically be enrolled in our Pre-Treatment Guidance Program where you'll be seen every six to twelve months to monitor the growth and development of your teeth and jaws. Dr. Valderrama will make sure your baby teeth are coming out on time and that permanent teeth are able to grow into their proper position, minimizing more extensive and lengthy treatment at a later age. Earning tokens is fun and easy! Here are just a few of the ways you can earn Kids Club Reward Tokens:
See your family dentist every three to six months for a cleaning and check-up and return your VO Dental voucher to us.
Refer a friend to Valderrama Orthodontics.
Bonus: How I Lost My Tooth
Remember that you will earn tokens for each baby tooth that you lose! When you say goodbye to one of those teeth, we want to hear the story! Write a short story about how and when you lost the tooth. Don't forget to include a photo of your smile with that new gap in it! You may see a picture of yourself on our special board the next time you are in.